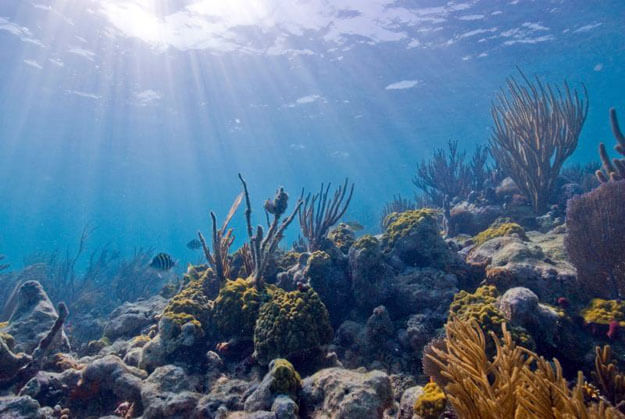 Written by Robert Silk, Authentic Florida Guest Blogger
South Florida is home to three national parks and a national preserve. But Biscayne National Park, that sits at Miami's doorstep might be its least known.
Biscayne National Park protects 173,000 acres, including southern Biscayne Bay, coral reefs, isolated islands, and mangrove shorelines. It also offers a rich assortment of cultural attractions.

Boat tours are offered at the Dante Fascell Visitor Center
The park's northern boundary lies barely a handful of miles from downtown Miami! However, those without their own boat are more likely to access it from the Dante Fascell Visitor Center, nine miles east of downtown Homestead. From there, there are three-hour motorized boat tours on a seasonal basis, and six-hour sailing and island hopping excursions are available year-round. At the visitor center, patrons can also rent a kayak or merely enjoy the pristine surroundings.

Downtown Miami, photo courtesy Greater Miami CVB
Biscayne National Park is a place of contrasts, and not just because of how sharply it divides the natural world from the urban one of the Miami metroplex. Though it is 95 percent covered by water, the park boasts southeast Florida's longest stretch of mainland mangrove shoreline. It also contains nearly 50 coral rock islands and is home to the northernmost end of the Florida Keys reef tract. More than 600 species of fish are within Biscayne National Park's waters.

Florida mangroves
Though we think of Florida as relatively newly settled, the islands of Biscayne National Park have 10,000 years of human history. The Tequesta tribe of Indians lived on them. According to lore, so did the notorious 18th Century pirate Black Caesar. In more modern times, islands in the park became an early and mid 20th Century playground for the rich and famous. Presidents Harding, Hoover, Johnson, and Nixon all vacationed on Adams Key.
If you make your way to Biscayne National Park you'll find it offers a diverse list of stopping points and recreational opportunities.

Miami's Stiltsville, photo courtesy Greater Miami CVB
Stiltsville is located on the northern edge of the park. Its seven wooden houses are what remain of a once vibrant and unregulated community of homes and nightclubs that rose about a mile off of Key Biscayne during the 1930s. The homes sit elevated over the bay on wooden beams or concrete pilings. They're fun to look at, but you're not allowed to dock at them. To stay in the homes, apply for a usage request at Stiltsville Trust.

Boca Chita Key's lighthouse, photo, Robert Silk
Boca Chita Key is the park's most popular stopping point and arguably its most beautiful. The island is dominated by its 65-foot ornamental lighthouse and built by former island owner Mark Honeywell. The lighthouse opens intermittently, mainly in winter and early spring weekends. From the top, the stunning panorama includes downtown Miami and Miami Beach, Biscayne Bay and its islands, and the Atlantic. Boca Chita also has an expansive picnic and camping ground and a short ½ mile walking trail. Mosquitoes aren't always present, but go prepared.

Elliott Key boardwalk, photo, Robert Silk
At seven miles in length, Elliott Key is the largest island in the park. It offers a swimming area, bayfront picnicking, a campground, fishing, and hiking. The ¼ mile boardwalk along the narrow island's Atlantic shore is a fun place to look for sea beans that wash ashore from many parts of the world. But do your homework, it is forbidden to remove native beans from the park.

Elliott Key's Spite Highway hiking trail, photo, Robert Silk
Elliott Key also features the 7-mile Spite Highway hiking trail. This is what remains of a roadway that was planned before Biscayne National Park was protected in 1968. It cuts a straight path through the hardwood hammock in the center of the island. Steer clear in the summer unless you really like mosquitoes.

Biscayne National Park Visitor Center, photo courtesy BNP
The Dante Fascell Visitor Center is Biscayne National Park's only facility on the mainland. It is more than just a launching pad for water excursions! The facility has a small interpretive center and art gallery, a theater that shows films about the park, picnic tables, a jetty for fishing, and a nice porch overlooking the water.

Paddlers can discover many hidden gems, photo courtesy BNP
Paddlers will love the southern Biscayne Bay, especially if they can ferry their kayaks, canoes, or paddleboards to some of its remote locations. The lagoon and narrow creeks that surround Totten Key, Old Rhodes Key, and the several smaller islands on the southern boundary of the bay offer beautiful paddling with little to no competition from boats. The clear tidal creeks are outstanding for viewing snapper, barracuda, snook, nurse sharks, and other marine life. The highlight of any southern Biscayne Bay paddle is the approximately mile-long Jones Lagoon! This is where roseate spoonbills nest, magnificent frigatebirds cruise the skies, sea turtles pass through, and upside-down jellyfish cover the bottom.

Biscayne National Park Florida sea turtles, photo courtesy BNP
Divers and snorkelers visit Biscayne National Park for its more than 5,000 patch reefs, the northern edge of the Florida Keys reef tract, and its shipwreck trail of six vessels and the Fowey Rock lighthouse. The reefs benefit from their relative remoteness from the popular Upper Keys dive operations.

Fowey Rock lighthouse, photo courtesy, BNP
One of Biscayne National Park's most prominent dive sites is Long Reef to the east of Elliot Key. Dives there range from 20 feet in depth to 60 feet. Alongside Long Reef is the Mandalay, a 128-foot schooner that ran aground in 1966. The boat sits in just 10 feet of water, making it desirable for snorkelers as well as divers.
Author, Robert Silk
For more of Robert Silk's insights on ways to experience the southern Florida wilds, check out his book, "An Ecotourist's Guide to the Everglades and the Florida Keys," published by the University Press of Florida.
Robert Silk is the Florida tourism and airline editor for Travel Weekly and former senior staff writer for The Key West Citizen/Florida Keys Free Press. He has explored outdoor southern Florida for 15 years.
Please note, the National Park Service has sent out this recent message regarding new legislation that will affect the Biscayne National Park: 
"The Senate Commerce, Science & Transportation Committee recently voted on a bill that would block desperately needed marine conservation measures in Biscayne National Park. The bill, introduced by Senators Bill Nelson and Marco Rubio, would prevent the creation of a marine reserve to protect Biscayne's fragile coral reef resources, improve the visitor experience and help bring back more fish to Florida. Click here to help let these legislators know how you feel about this recent action.
Signature photo courtesy of Biscayne National Park.

AuthenticFlorida.com was named Best Travel Blog two-times at the Florida Sunshine Awards.
To receive Authentic Florida's free weekly ENEWs, sign up on our Authentic Florida home page.
To inquire about partnerships/advertising, please contact info@authenticflorida.com 
Proud Member of: 

---