It's October – which means fall festivals, corn mazes, pumpkin patches, and more! This year may look a little different due to COVID-19. However, if you'd rather venture out into the world (practicing social distancing and following the CDC Guidelines) or feel more comfortable staying inside there are plenty of Authentic Florida events for you to enjoy! Check out our list of October Events in Florida!
North Florida In-Person Events
Al Fresco Concert Series – Pensacola
About: First on our list of October events in Florida is the Al Fresco Concert Series in Pensacola! Make sure to bring along your own chairs, blankets, and a friend or loved one for a night of amazing live music by the Pensacola Opera! This event takes place each Saturday at sunset at one of Pensacola's different local parks.
When: Oct. 3, 10, 17, 24
Where: various venues, Pensacola
Web: https://pensacolaopera.com
Check out: Experience Authentic Pensacola (& Pensacola Beach)
Cosmic Concerts – Jacksonville

About: With so many spooky events canceled this year, the Museum of Science and History wanted to create something fun to fill the void! Look no further than their Cosmic Concerts with Halloween-themed playlists. This planetarium show includes laser lights, high-def imagery, and digital sound. There are four different shows to choose from including the more family-friendly shows including songs like Thriller and Monster Mash. The shows get darker and spookier as the night progresses! Their Laser X show includes 90s metal bands including White Zombie's More Human Than Human and Pink Floyd's The Wall.
When: Oct. 2
Where: Bryan-Gooding Planetarium at MOSH, Jacksonville
Web: https://themosh.org/explore/planetarium/#1595018852246-b61e3133-0bc3
Ghosts, Murder, and Mayhem Segway Tours – Pensacola
About: Next on our list of October events in Florida is a spooky segway tour in Pensacola! Looking to learn a little more about Pensacola's dark side? Look no further than Pensacola's segway tour where ghosts wander the city's old Red Light District! You'll visit the site of a streetcar bombing, Pensacola's drive-through funeral home, and the bartending ghost of Seville Quarter! Make sure to book your tickets in advance because tours are limited to 6 guests only.
When: Daily
Where: Pensacola
Web: emeraldcoasttours.net/segway-tours
Greek Festival 2020: To Go – St. Augustine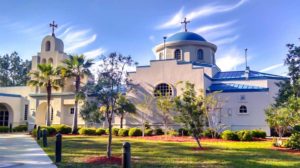 About: For 22 years St. Augustine has been hosting their annual Greek festival which signaled that fall was here! Families enjoyed gyros, spanakopita, and dancing to traditional Greek music. While the organizers decided to not have the event in person this year, they didn't want to cancel! This led to the Greek To-Go version with eats and treats for pickup! You can place your order online and choose the day and time for pickup on October 9th or 10th. Make sure to try the chicken souvlaki, roast lamb, moussaka, pastitsio, and kourabiedes!
When: Oct. 9-10
Where: Holy Trinity Greek Orthodox Church, St. Augustine
Web: https://www.staugustinegreekfestival.com
While in St. Augustine, check out: St. Augustine Lighthouse
Kayak Amelia – Big Talbot Island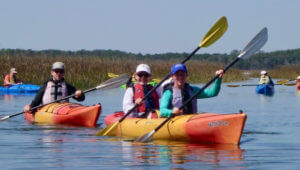 About: Since Florida's state parks have reopened, Kayak Amelia on Big Talbot Island State Park is open again for fun! This state park is located just south of Amelia Island on Jacksonville's far northeast corner. No matter your level of kayaking, they have something for you! You can either rent your own kayak and paddleboard by the hour or join a guided tour to learn more about the ecosystem of the area. You have two tour options: the Salt Marsh Eco Tour or the Eco Tour to Kingsley Plantation.
When: Dates vary
Where: Big Talbot Island
Web: kayakamelia.com
Check out the Fernandina Beach/Amelia Island Walking Tour: Walk This Way! Free Walking App Features 20 Community Tours
Sykes Family Farm Crop Maze – Elkton
About: Next on our list of October events in Florida is Sykes Family Farm! This farm has 9 acres of fun and has grown rapidly over the years. Visitors are given a passport to help them find their way through the maze, or for a challenge, you can choose to go in blind! Phases one and two are more challenging, and the final two phases are more family-friendly. These phases include large storyboards for The Legend of Spookley the Square Pumpkin and Jack and the Cornstalk.
When: Oct. 3 – 25
Where: Sykes Family Farm, Elkton
Tea for Two – Gainesville
About: Are you missing attending a show at the theater? We definitely are! Make sure to visit Black C Art Gallery in Gainesville to catch a great show! They're currently putting on Tea for Two – a show with two performers and two audience members (you and a guest). The show is 30 minutes, social distanced, and is based on August Strindberg's play, The Stronger. If you choose the VIP option you have the ability to name the date and time of your show and the opportunity to ask the cast questions about the creative process after the show. As the name suggests, tea is served!
When: daily availability
Where: Black C Art Gallery, Gainesville
Web: blackcproduction.com/tea-for-two
Check out: Ten Awesome Things To Do in Gainesville
North Florida Virtual Events
Castillo San Marcos Virtual Tour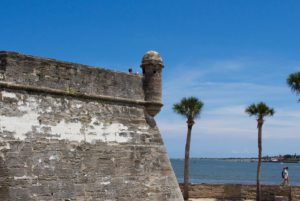 About: The Castillo de San Marcos in St. Augustine is full of rich history and the University of South Florida Libraries and the National Park Service teamed up to create a 360-degree tour of this monument. By watching this tour, visitors will understand the massive size of the monument from inside the fort and by drone tours of the outside. The tour also includes a video explaining what life was like for the people who lived there as well as the history of the fort. You can also see interactive 3-D models as well!
When: Ongoing
Web: nps.gov/casa/virtualtour.
Check out: A Romantic Weekend in St. Augustine
Catty Shack Ranch Wildlife Sanctuary Virtual Night Feedings
About: At Catty Shack Ranch Wildlife Sanctuary you can get to know the tigers and lions that live at this big cat sanctuary. They are currently showing a virtual version of their night feeding! Their Executive Director Curt LoGiudice walks viewers through the cats' feeding, gives background on them, introduces you to the staff, and shows off their ongoing $8 million renovations! Interest in cat sanctuaries have gone up thanks to Netflix's Tiger King, and Catty Shack is a true sanctuary. This means they don't breed, trade, sell, or buy their residents – this is their forever home!
When: Facebook Live Virtual Night Feedings Fridays and Saturdays at 7 p.m., Facebook Live Educational Program Tuesdays and Thursdays at 4 p.m.
Web: facebook.com/cattyshackranch
Forgotten Coast Museum Tour
About: Next on our list of October events in Florida is the Forgotten Coast Museum Tour! Did you know you can thank Florida for air conditioning? Or, there is a 20,000-year-old oyster shell located in Carrabelle? The cities of Carrabelle, Apalachicola, Alligator Point, St. George Island, and Eastpoint all consider themselves the Forgotten Coast of the Panhandle. You can learn more about their rich history and explore the Raney House Museum, Carrabelle History Museum, John Gorrie Museum, and more!
When: Ongoing
Web: floridasforgottencoast.com/museum-series
Check out: Getaway to Authentic Apalachicola
The Grove Museum
About: Next, you can take a virtual walk through the Call-Collins House and the 10.5-acre grounds of The Grove in Tallahassee! The Grove is on the National Register of Historic Places has been open to the public only since 2017! Due to COVID-19, the staff is posting videos every week teaching viewers about the history of the Grove! Check out virtual nature walks, live storytimes, and behind-the-scenes looks at different rooms! You can also learn more about what role the home had in Florida's Civil Rights movement. You can check out the museum's home page for its event schedule at thegrovemuseum.com.
When: Ongoing
Web: facebook.com/TheGroveMuseum/videos
Check out: Ten Authentic Things to do in Tallahassee
Gulfarium Marine Adventure Park
About: Next on our list of October events in Florida is the Gulfarium Marine Adventure Park! Here you can learn fun facts about different marine animals through the park's educational Facebook videos! For example, did you know that gopher tortoises love to eat strawberries? Or, that dolphins have a belly button like us? You can learn this and even more by checking out the videos! The trainers announced ahead of time on their Facebook page when they'll be recording a live segment!
When: varies throughout the week on Facebook
Mermaid Encounters
About: Do you want to see live mermaids from the comfort of your own home? Sister of the Sea and The Dive Bar have brought back their Live Mermaid Encounters to enjoy during the weekend. You can watch the mermaids from a Live Mermaid cam as they frolic in their saltwater pool! In the Panama City Beach area? You can also head over to see them in person!
When: Fridays, Saturdays, and Sundays from 3-6 p.m. in Panama City Beach
Web: sistersofthesea.net/#mermaid-encounters
National Naval Aviation Museum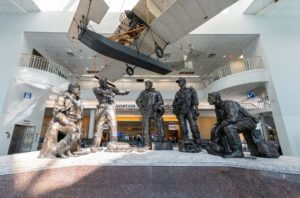 About: Do you love learning about planes and the world of flight? You can check out the National Naval Aviation museum's 360-degree tour from home! This museum has 350,000 square feet of exhibit space, 150 restored aircraft, and an exhibit dedicated to the Apollo space missions. You'll learn about the aviation history of the Coast Guard, Marine Corps, and the Navy!
When: Ongoing
Web: poly.google.com/view
Check out: Experience Authentic Pensacola (& Pensacola Beach)
Pensacola Museum of Art
About: The Pensacola Museum of Art has been working incredibly hard to update their Facebook page daily with arts and crafts projects for the young and young at heart using found materials. Past videos have even included using socks to make stuffed bunnies! Make sure to check out their Facebook Live talks with artists who are currently featured at the museums. If you want to learn even more about the background of the artists and check out virtual tours of the exhibits, visit pensacolamuseum.org.
When: varies throughout the week on Facebook
Web: facebook.com/pensacolamuseum
Check out: Experience Authentic Pensacola (& Pensacola Beach)
St. Augustine Alligator Farm Zoological Park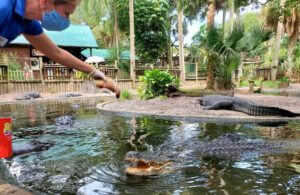 About: Next on our list of October Events in Florida is the St. Augustine Alligator Farm Zoological Park! You can meet Maximo – the 15-foot, 1,250-pound saltwater crocodile! Check out their weekly Facebook Live Virtual Events to learn more about the zoological park and the residents! All of the events also have a Q&A session where you can submit your questions ahead of time.
When: Various times
Web: facebook.com/TheAlligatorFarm
Check out: Step Back in Time in Charming St. Augustine 
Central Florida In-Person Events
Biketoberfest – Daytona Beach
About: Biketober fest is usually a fun-filled four-day party that fills the streets of Daytona! This year, the organizers realized they needed to take a safe, open-air approach. They will make sure to utilize the outdoors and outdoor spaces of Daytona. Many local businesses will be open for food, drink, and fun – all while following social distancing guidelines.
When: Oct. 15-18
Where: Daytona Beach
Web: https://www.daytonabeach.com/biketoberfest/
Check out: Race to Adventure in Daytona Beach
Drive-In Movies – Dade City, Ruskin, Lakeland, Ocala
About: A perfect event for staying safe and social distancing today is a drive-in movie theater! Central Florida has a number of drive-in theaters you can enjoy from the comfort over your own car. Make sure to wear a mask if you're visiting the snack bar! Some of the theaters even allow pets – so make sure to check out the websites before you head out!
When: Five days a week to daily; check hours online
Where: Dade City, Ruskin, Lakeland, Ocala
Web: silvermoondrivein.com and ocaladrivein.info and joylandrivein.com and ruskinfamilydrivein.com
Check out: Step Back in Time at these remaining Drive-In Movie Theaters in Florida
The Fox Squirrel Corn Maze – Plant City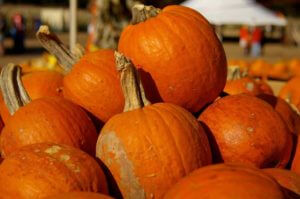 About: Next on our list of October events in Florida is the Fox Squirrel Corn Maze! This is the perfect place to get that fall feeling and create fun memories! This Plant City pumpkin patch includes kettle corn, crafts, local honey stands, pumpkin painting, cornhole, duck races, dummy steer roping, and a corn maze! Everything is located on a real central Florida farm!
When: Saturdays & Sundays, Oct. 10-Nov. 1
Where: Plant City
Web: https://futchentertainment.com/the-fox-squirrel-corn-maze/
Fruitville Grove Pumpkin Festival – Sarasota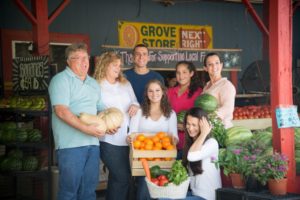 About: The Fruitville Grove has a long tradition of opening their farm to the public for fall fun! This includes an outdoor fall festival with a petting zoo, costume contest, circus tricks, pumpkin painting, and photo ops! Every weekend you can also try a delicious lineup of food trucks! Options include BBQ, vegan dishes, popcorn, ice cream, tacos, and more! Don't forget to visit the Farm Market to take home some delicious and amazing souvenirs!
When: Saturdays & Sundays throughout October
Where: Sarasota
Web: https://fruitvillegrove.com/
Check out: Ten Awesome Things To Do in Sarasota
The Haunted Road – Orlando
About: Are you looking for a spooky Halloween event to feel both scared and safe at the same time? Make sure to check out Central Florida's first contactless drive-through experience! You'll experience bloody, creepy characters, a spooky drive, sound effects, and immersive storytelling! You'll drive to each scene and put your car into park with the headlights off before the scene begins. This drive is 40 minutes and could be a bit much for little ones! Make sure to check out the daytime family-friendly event with fairytale characters, music, dancing, and contactless sweet treats!
When: Select dates throughout October
Where: Lake Pickett Road, Orlando
Web: https://www.thehauntedroad.com/
Lake Apopka Wildlife Drive Audio Tour – Lake Apopka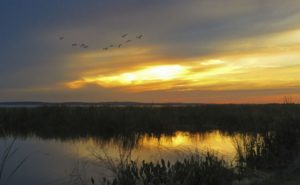 About: Looking to go on a mini-safari? Look no further than the restored farm fields of Lake Apopka! You'll see native birds, turtles, alligators, bobcats, snakes, and more! The St. Johns River Water Management District made an audio tour to go along with the drive that you can easily access from your phone. This drive is 11 miles and has stunning and beautiful scenery to enjoy.
When: Fridays, Saturdays, and Sundays from sunrise to sunset
Where: Lake Apopka North Shore farmlands, Orange County
Web: sjrwmd.com/lands/recreation/lake-apopka/wildlife-drive
Lighted Halloween Boat Parade – Tampa
About: Boat owners of Tampa Bay will come together to compete for the spookiest and best-decorated boats along the Tampa Riverwalk! You'll get to see elaborate decorations, lights, and Halloween props while you enjoy on dry land! Proceeds from the event will go to the National Pediatric Cancer Foundation.
When: Oct. 24
Where: Tampa Bay Riverwalk, downtown Tampa
Web: https://nationalpcf.org/1st-annual-lighted-halloween-boat-parade
Lukas Nursery Butterfly Encounter – Oviedo
About: While you can visit the Lukas Nursery Butterfly encounter year-round to see butterflies and birds, you can check them out virtually this year! You can see butterflies, finches, Chinese button quail, and endless beautiful plants and flowers! If you visit in person you can feed them right from your own hand! Check out the virtual version of the tour via their YouTube channel here : youtube.com/lukasnurserybutterflyencounter.
When: Daily
Where: Lukas Nursery, Oviedo
Web: lukasnursery.com/butterfly-encounter
Check out: Plan a Weekend Retreat North of Orlando in Seminole County
Mount Dora Bicycle Festival – Mount Dora
About: This four day weekend of bicycle fun in Mount Dora will attract cyclists from all around the world! Don't worry – the activities are still socially distanced! Activities include a photo scavenger hunt, hill climbs, pre-ride breakfasts, a beer garden, and more! You can even compete in the "Gran Fondo" timed challenge for the chance to be named the Gran Fondo King and Queen!
When: Oct. 3-6
Where: Mount Dora
Web: http://mountdorabicyclefestival.com
While in Mount Dora, check out: Home is Where the Art is at the Starry Night House in Mt. Dora
Plant City Bike Fest – Plant City
About: Next on our list of October events in Florida is the Plant City Bike Fest! The spring version of the event was canceled out of caution, but this fall event is back with several social distancing and safety protocols in place! You'll get to see a motorcycle show with classic and antique bikes, food trucks with delicious food and treats, multiple vendors, live music, and fun for all ages!
When: Oct. 3
Where: Downtown Plant City
Web: https://www.facebook.com/PlantCityBikeFest/
Central Florida Virtual Events
Broadway Ball at Home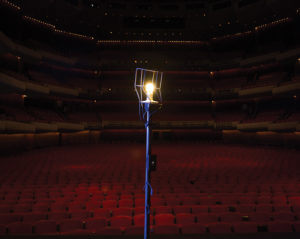 About: Next on our list of October events in Florida is the Straz Broadway Ball at Home! "The show must go on," according to Tampa's Straz Center for Performing Arts. They consider this their most important Broadway Ball since all of their theatre shows and musicals have been canceled for several months. This ball will be available online virtually and will feature Broadway performances and a live auction to help this difficult year.
When: Oct. 17
Where: Virtual
Web: https://strazcenterbroadwayball.wordpress.com/
Florida Aquarium's Sea-Span
About: Are you curious what the Florida Aquarium's friends have been up to since the pandemic? You can check out the SEA-SPAN, the Florida Aquarium's Facebook Live broadcast to keep up with the penguins, stingrays, seahorses, and Cleatus the goliath grouper while they don't have visitors! You'll even get to learn more about conservation, feedings, cleanings, care, and more behind-the-scenes! All of the videos are online on the Aquarium's website!
When: Daily at 10 a.m.
Orlando Repertory Theatre Presents: Vote? By Eric Coble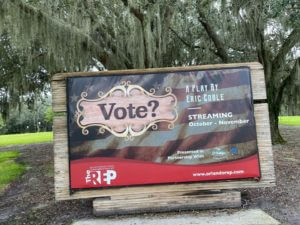 About: Orlando REP's production of the powerful play Vote? By Eric Coble is a fully produced performance professionally filmed and streaming on Broadway On Demand this fall. On her first election day, eighteen-year-old Nicole begins unexpectedly sliding through time and pivotal historical events, standing beside women, Black Americans, and young people all demanding their right to vote. Coming face to face with Sojourner Truth, George Washington, Lucretia Mott, Dr. Martin Luther King Jr, and others, Nicole discovers just how many shoulders we are standing on every time we step into a voting booth, and not to casually dismiss this most American of rights.
When: October 5 – November 8
Where: Streaming on Broadway on Demand. You can pre-register here!
Web: https://www.orlandorep.com/show/10224/
If you are in the Orlando area, be sure to check out: Seven Reasons to Fall in Love with Winter Park
Visit the Dali Museum
About: Next on our list of October events in Florida is the Dali Museum! St. Petersburg has hosted art lovers from all over the world to see their collection of over 2,400 Dali works! This includes nearly 300 oil paintings, watercolors, and drawings, and more than 2,100 prints, photographs, posters, textiles, sculptures, and objets d'art. Now everyone can see his works in their free 360-degree tour of the museum as well as online-only exhibits, tours, lessons, lectures, classes, and more!
When: Ongoing
Web: thedali.org/the-dali-on-line
South Florida In-Person Events
Dark Art 2020 – Fort Myers
About: This show features spooky art in Southwest Florida dedicated to horror, macabre, and darkness during Halloween month! The opening reception will be immersive with live music, performances, art, and entertainment! Make sure to wear a costume! Masks are strongly recommended and will be provided if you don't have your own. Social distancing guidelines will also be in place including a limit on how many people can be in the exhibition room.
When: Oct. 2 (the opening reception) through Oct. 20
Where: Sidney & Berne Davis Art Center, downtown Fort Myers
Web: sbdac.com
Fort Lauderdale International Boat Show – Fort Lauderdale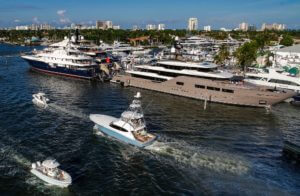 About: The Fort Lauderdale International Boat Show must go on! While it won't be quite as large as the past, there will still be 1,300 boats of all shapes and sizes! You can't miss the Superyacht Village! This features boats at more than 300 feet! Another great experience is the Windward VIP Club. Here, there are six miles of floating docks that have been widened up to 30 feet for social distancing. Make sure to check out their homepage and read the "Covid-19 UPdates and Information" and watch their videos before you attend. All tickets are contactless and non-refundable.
When: Oct. 28-Nov. 1
Where: Bahia Mar Yachting Center and seven other marinas in east Fort Lauderdale Lauderdale
Web: flibs.com
Full Moon Kayak Tours – Fort Lauderdale & Key West
About: Next on our list of October events in Florida is Full Moon Kayak Tours! You have two options this month since there are two full moons in October – the Harvest Moon and the Blue Moon! This tour is perfect for all ages and every skill level of kayaker! The best part? S'mores are included! The tour is socially distanced and masks are required at entry and on the docks. When you're out on the water you may remove your mask if you are comfortable. Book early since the tours are only limited to 15 people!
When: Oct. 1 and Oct. 31
Where: Kayaks depart and return in both Fort Lauderdale and Key West
Web: bluemoonoutdoor.com for Fort Lauderdale and bluemoonkayakkeywest.com for Key West
The Horrorland Drive-Thru Haunted House – Miramar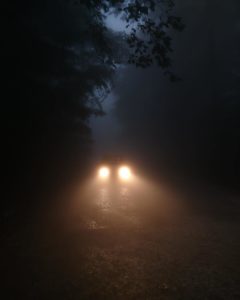 About: Don't worry about not having a spooky Halloween experience this year even with social distancing! All you need is your car for this event. This Halloween drive-through will take you deep into the forest to see monsters, vampires, ghosts, and zombies that pop up at a moment's notice! The 35-minute attraction takes you through multiple scenes including Alice in Horrorland, Christmas Nightmare, Creepy Carnival, Zombie Apocalypse, Farm of Horrors, Asylum of Darkness, and Scream's Cemetary! Children under the age of 13 are not recommended to attend the event. Make sure to keep your windows closed during the event and have a ticket purchased ahead of time!
When: Oct. 1-31
Where: Miramar Regional Park, Miramar
Web: thehorrorland.com
South Florida Virtual Events
Biltmore Hotel Virtual 360 Tour
About: You can tour the historic Biltmore Hotel in Miami without even leaving your own couch! This 360-degree tour takes you through the library, guest areas, main lobby ballroom, the Palme D'Or restaurant, Fontana Courtyard, and the iconic pool! If you're thinking about having a conference and meeting once everything goes back to normal this is a great opportunity to see the spaces!
When: Now through Dec. 31
Web: biltmorehotel.com/meetings/360/hotel-tour
Celebrate Orgullo
About: Next on our list of October events in Florida is Celebrate Orgullo! This is a 15-day celebration for Hispanic LGBTQ Pride (the world Orgullo means Pride in Spanish)! All of their events this year are virtual except for the drive-in movie night! The organizers have managed to put together a fun, diverse, and educational program to celebrate Hispanic Heritage & LGBTQ pride month.
When: Oct. 1-15
Where: From the comfort of your own home
Web: celebrateorgullo.com
Flamcam at the Everglades Wonder Gardens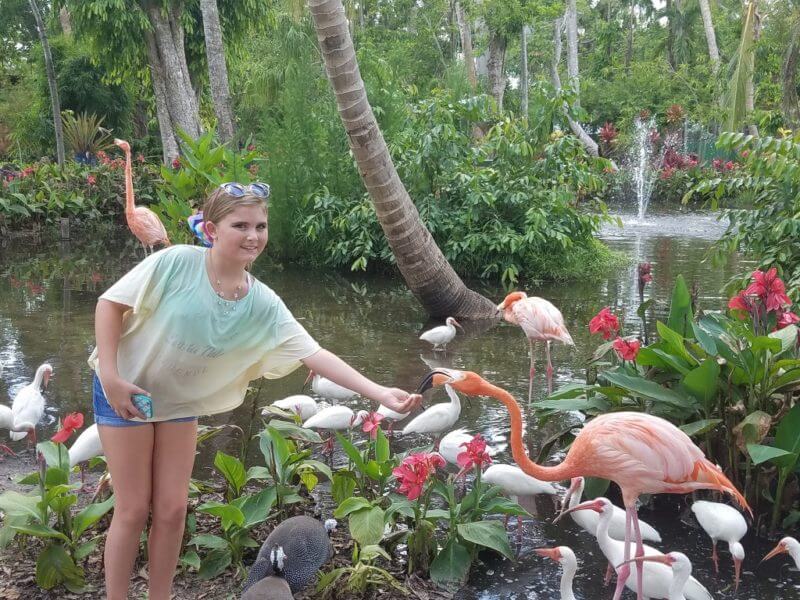 About: Who doesn't love flamingos? You can now see them from the comfort of your own home by watching the Flamingo FlamCam at the Everglades Wonder Gardens! Make sure to check out Amigo the Flamingo and the rest of the flamboyance (a flock of flamingos). The videos show them feeding, preening, and exploring their flamingo lagoon and beach. Their other friends including Picasso the Peacock and Prince Pierre can be seen as well! It's best to check out the live stream at 8 am and 4 pm when they are being fed.
When: 24 hours a day
Where: Everglades Wonder Gardens, Bonita Springs
Web: evergladeswondergardens.com
Florida Atlantic University Theatre Lab
About: Next on our list of October events in Florida is Florida Atlantic University's Theater Lab! This year the event is all virtual on Sundays in October. The Theatre Lab (the professional resident company of FAU's Dorothy F. Schmidt College of Arts and Letters) will show shows of emerging playwrights. After the reading of the play, they will have a masterclass to explain more. The playrights of this year's event are Rachel Teagle, Jeff Bower, Jahna Ferron-Smith, and Vanessa Garcia.
When: Respectively, Oct. 4, Oct. 11, Oct. 18, and Oct. 25
Where: All sessions are on Zoom.
Web: fau.edu/theatrelab
Jazzaid Live at the Banyan Bowl
About: Are you in the mood for some amazing music and live jazz but want to stay at home? Check out Jazzaid Live at the Banyan Bowl! Jazz Artists will be streaming their concerts for $15 per show or $100 total for the eight-show monthly series. Performers include Jon Secada, Arturo Sandoval, Kurt Elling, The Glenn Miller Orchestra, Wycliffe Gordon, Dafnis Prieto conducting the Frost Concert Jazz Band, Grace Kelly, Joey Alexander, and The Manhattan Transfer. You can check out the concerts starting at 8 pm on any device with the internet!
When: Oct. 17 for the Jon Secada concert. See the website below for the dates of the other shows.
When: All shows will be streamed live from the beautiful Banyan Bowl in Pinecrest Gardens.
Web: pinecrestgardens.org/jazzaid. For information on how to view the concerts on a Screen or TV click on the following link: help.eduvision.tv/show-your-live-event-on-screen-or-tv/
Jungle Island Hosts Weekly #ChatswithChatsfield
About: Every Thursday in October through the end of the year, Dr. Jason Chatsfield will be live streaming educational chats about Jungle Island. The videos, going live at 3:30 pm will include special guests like Rocco, a baby capuchin monkey, and Luna, a black and white lemur. Make sure to visit the Jungle Island Facebook page to watch the live stream from your computer or smartphone. After Dr. Chatsfield's presentation, the event will be translated to Spanish by Marisela Guitierrez.
When: Thursdays at 3:30 p.m. through Dec. 31
Where: Jungle Island, Miami
Web: jungleisland.com
Little Havana Live
About: For this event, you will need to be on Instagram, but it's worth it! Every day at 4 pm, head over to the Veirnes Culturales Instagram for a live broadcast about life in Little Havana! Topics covered include architecture, art, music, food, people, culture, and history!
When: Now through Dec. 31
Where: Little Havana, Miami
Web: instagram.com/viernesculturales
Perez Art Museum Miami (PAMM) Digital Museum
About: Next on our list of October events in Florida is the Perez Art Museum Miami's Digital Museum! You can visit PAMM 24/7 virtually and check out guided tours of the current exhibits, permanent collections, art talks, and also crafts for the kids! Don't miss out on the "Virtual Local Views at PAMM" which features local artists discussing their works at the museum. The "Live Virtual Scholl Lecture Series" also focuses on art world figures and conversations with them.
When: Ongoing
A Recycled Night in Black & White
About: This year's Dress for Success Southwest Florida (DFSSWFL) fundraising event will be held virtually! This event helps women who are survivors of human trafficking and domestic violence receive clothes for a job interview as well as counseling and career development tools. Local fashion designers will show off their runway-ready outfits made from recycled clothing via the DFSSWFL Facebook page.
When: October 15
Where: From the comfort of your home
Web: dfsswflorida.org
Virtual Bluegrass Concerts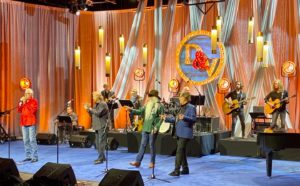 About: Sometimes the Flagler Museum in Palm Beach features live entertainment, and back in April two bluegrass bands were set to perform. However, that event was canceled due to COVID-19. Don't worry, because you can still see the two groups perform! Check out Grand Ole Opry members and multiple-Grammy award nominees Dailey and Vincent and the 2019 International Bluegrass Association Entertainers of the Year, Joe Mullins & The Radio Ramblers. Check out the Flagler Museum for a list of sites where you can watch them perform!
When: Ongoing.
Where: Flagler Museum, Palm Beach
Web: flaglermuseum.us/virtual-tour
Virtual Culture: Miami Beach Arts & Culture
About: This year, Miami Beach is bringing the arts and culture to you! The city recently created online cultural experiences for you to browse online! Events include online art exhibitions, master theater workshops, live-streamed concerts, art salon programs, and DIY art projects. Check out cultural institutions like The Bass Museum, the Wolfsonian, Miami New Drama, Miami Beach Urban Studios, New World Symphony, O Miami Poetry Festival, the Rhythm Foundation, Oolite Arts, O Cinema, Nu Deco Ensemble, Miami Jewish Film Festival, Miami City Ballet, Miami Beach Botanical Garden, Miami Design Preservation League, the Holocaust Memorial, Ballet Flamenco, and the Jewish Museum of Florida! Follow along on Instagram with the hashtag #MBArtsAndCulture or sign up for their weekly email newsletter!
When: Through Dec. 26
Where: Various locations in Miami Beach.
Web: mbartsandculture.org/virtual-culture
Virtual Tours with Florida Stories
About: Florida has so many stories to tell about their rich history! Check out the history of The Sunshine State with the Florida Stories app! This app features stories written by history experts to help you learn more about local communities of Florida! This app is free to download on the Apple Store and Google Play Store.
When: Now through Dec. 31
Web: floridahumanities.org/florida-stories
Wynwood Walls Virtual Gallery Tour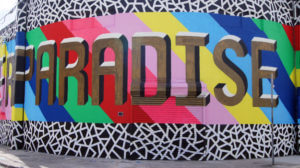 About: Have you seen the Wynwood walls? Do you want to see them again? This year you can check them out from your own home! Online you can learn more about the history of the Wynwood Walls and watch the area transform with murals by local Miami artists!
When: Now through Dec. 31
Where: Wynwood district, Miami
Web: thewynwoodwalls.com/walls
Zoo Miami's Zoocademy Videos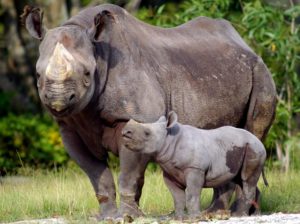 About: Last on our list of October Events in Florida is Zoo Miami's Zoocademy Videos! The zoo is currently closed, but their online program focuses on their resident wildlife as well as behind the scenes footage! Check out all of the past videos on YouTube as well as three new videos posted every week! You can check out giraffes, eagle owls, Galapagos tortoises, African elephants, Burmese pythons, black rhinos, and more! One of the videos features Hope, the first koala born in the zoo in more than 20 years!
When: Now through Dec. 31
Where: Zoo Miami, Miami

AuthenticFlorida.com was named Best Travel Blog two-times at the Florida Sunshine Awards.
To receive Authentic Florida's free weekly ENEWs, sign up on our Authentic Florida home page.
To inquire about partnerships/advertising, please contact info@authenticflorida.com 
Proud Member of: 

---
Comments are closed.